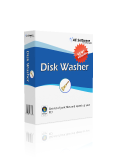 Disk Washer is a system optimization and privacy tool. Will help you maintain your system functioning at its peak performance by removing unnecessary files from your computer, such as installation programs left-over, resolving DLLs problems, resolving system registry errors, and any other things that can make your system slower and unstable. Improve your system stability and performance by regularly using Disk Washer.

Recover disk space
Every time you use your computer, temporary files are created. When you install program, the setup applications leave unnecessary files on your system. Many other type of files are created on your system that are not needed and are taking up valuable disk space. Disk Washer will help you gain back your lost disk space by finding and removing these type of files.

Clear your tracks
Everything that you do on the computer gets recorded. Everything gets logged. When you open files, open pictures, browse the internet, download programs...all that can be found. Disk Washer will help you clear your tracks by deleting your internet tracks, deleting history files of Windows and other popular programs.

Fix common Windows problems
Disk Washer will help you find and fix orphaned shared DLLs, invalid file/path references, orphaned help file references, invalid application references, startup programs, invalid un-install file references, and many other things that can cause problems with Windows.

Optimize Windows!
After having used Disk Washer, you will notice that your computer will be running smoother, faster, and without many other problems that you may have been experiencing. It is recommended that Disk Washer be used once every week.

Expandability. Endless functionality.
Disk Washer supports expandability by making use of plug-ins. Everything that you need to create plug-ins is included with the program. With plug-ins, the functionality of the program is unlimited.

Backup!
If you are skeptical about what Disk Washer does, you can always tell Disk Washer to backup all deleted files to a ZIP file.

Flexibility. You are in charge!
Disk Washer does what the user wants. Everything can be customized by the user. You decide what gets deleted or what does not get deleted. You decide how and when the program will work. You are in charge!

Microsoft Windows 2000, XP, Vista, and 7 Compatible.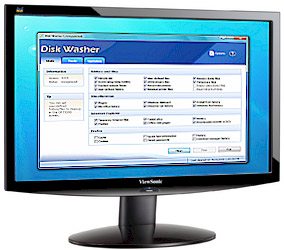 INCLUDES THE FOLLOWING:
Internet Explorer Cleaner
Temporary Internet Files, Cookies, History, AutoComplete history, Downloaded ActiveX & OCX, Offline Webpages, ...

Mozilla Firefox Cleaner
Cache, Cookies, History, Saved form information, Saved passwords, Download manager history, ...

Windows Cleaner
Recycle Bin, Active setup temporary folders, Content indexer folders, User-defined folders & files, Unnecessary Files, Zero-byte files, Dead shortcuts, Recent Documents, Residual printer files, Memory dump files, Temporary files, ...

Registry Cleaner
Startup programs, File associations, Uninstall programs, Orphaned shared DLLs, Orphaned file/path references, Orphaned help file references, Orphaned application path references, Orphaned ActiveX control references, ...

Third-party applications Cleaner
Removes temporary files and recent file lists (MRUs) from many applications. This function also can be expanded virtually unlimited by the use of plugins.

100% Spyware FREE!!
This software does NOT contain any spyware, adware, nor viruses.


---